One of the big questions concerning Star Wars: The Force Awakens is who is Kylo Ren? As of right now, we have a little information about the character, and I thought I would compile it here. I will also add a bit of speculation into it, so look out for potential spoilers.
What we know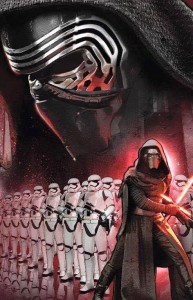 We know Kylo Ren isn't a Sith. In fact Kylo Ren is a title given to him by the order he is a part of, the knights of Ren. Kylo Ren isn't even his name. He is a member of the First Order and answers to Supreme Leader Snoke. Kylo Ren hand crafted his Lightsaber, and his mask was designed as a tribute to Vader. That's about it.
What I think
I believe the Knights of Ren are a sub-cult (Is that a thing?) of the Sith, and were started back in the days of The Old Republic. I don't have a theory for who or what Ren is, but maybe its a Sith or Jedi of note, such as Darth Bane. I believe Kylo to be his real first name, and Ren be the "Darth" in his title. I believe, like other people in the Star Wars community such as Kristian Harloff and John Campea, that Kylo is the son of Han and Leia, and was being trained by Luke until for some reason he left, and joined up with the Knights of Ren. I believe he took control of the First Order, and is using them to achieve his personal goals. I don't think that Vader is an idol to the entire Knights of Ren, but just Kylo. I believe he is after the Lightsaber to take on the mantel of Vader, and I think he will be entirely devoted to the cause. I don't think he cares about the First Order and their objectives, and he leaves most of the first order business to General Hux and Captain Phasma. I believe they are just a tool to get what he wants.
So that's i for this article! Why is it so short? Well I will be doing another tomorrow! So who do you think Kylo is? Is he a mad man? Is he the new Maul or Vader. Tweet us @OfficialGeEKPod or leave your thoughts in the comments below! All our other contact details can be found here.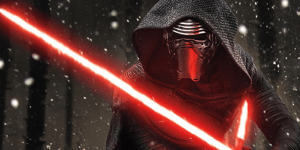 Thanks for Reading and Catch-ya next time!