Welcome to Movie Mania! This is a blog series where I talk about all things movies. For this weeks installment, I decided to do a review. Over the weekend, I saw The Martian, the new sci-fi film, and I just need to review it. As with most of my reviews, I will break this into 3 category: Cast, plot and Enjoyment.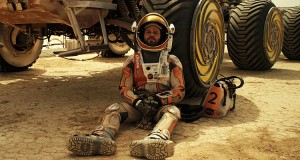 The Cast in The Martian is stellar. Interstellar perhaps? Yeaaaaah! I'm sorry. Anyway, the cast was amazing. The film focuses on Matt Damon, who plays Botanist Mark Watney. His comedic timing in this film is great, and I have the urge to watch any film with Matt Damon in it. The other main characters were great. Highlights for me were Chiwetel Ejiofor as Venkat Kapoor, Sean Bean as Mitch Henderson and Michael Peña as Rick Martinez. Even if I don't mention the other characters and actors, it doesn't mean I didn't like them. In fact, I didn't dislike anyone in the film. Everyone was a character I believed could exist in the film.
The plot was very believable for a sci-fi film. To me, everything seemed scientifically sound. The plot is as follows. A strong storm interrupts the Ares III mars mission and the astronauts are forced to leave and abort the mission. Unfortunately, one of the astronauts are stuck down and seemingly killed. The others leave mars, the storm and their friend behind, not knowing that he survived. He must survive on a hostile and foreign planet until help can be sent. I believe this is a great plot. I had a lot of fun watching it, and the way that all of the different characters interacted. I really thought that the plot had all the right things in it. Man, just talking about it makes me want to see it again.
I think this film has taken over Inside Out. This film was just so fun, and it kept building tension. I didn't know what would happen next and I just got more and more excited for the conclusion. The film was super funny. Everyone in the theater was laughing. In fact, I don't think I've ever seen a cinema so full here in Singapore. Over all, I would give this film a 5/5. Definitely the greatest film I've seen all year. I love the way the film looks to. It feels like it was actually filmed on Mars. Now, should I read the book?
That's it for this Review! What did you think of the Martian? Email us at feedback@geek-podcast.com, leave a comment below or tweet us @OfficialGeEKPod!
Thanks for listening and catch-ya next time!