Right about now, KOTFE is released to all the subscribers to Star Wars: The Old Republic. All of them. I was lucky though. I got in to early access. I have had my greedy hands on KOTFE for a week and I thought I would relay my thoughts on the expansion. Spoiler, I love it. (This will be majorly spoiler free).
The Story.
Man is it hard to write a non-spoiler review. This story is fantastic. Immersive is the best word to describe it. The story gets you hooked in the best of ways, and that happens as soon as you step in. The characters all have their own personality, more so than in the past. The choices you make impact the story and gameplay. I personally couldn't get away from the screen. I loved the story so much I played it in a day, and I am usually very slow with these things. The cinematics were incredible, the detail and effort really shines. The highlights were chapters 4 or 5 and 8. The main cast of characters were super fun, and I loved all of them. The story overall was amazing, and I cant wait for the future.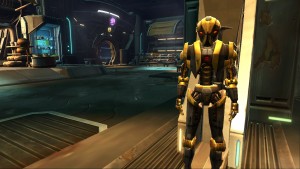 The Gameplay.
This should be short. Make it harder BioWare! The story content is super easy, its only some of the end game stuff is challenging. We also fight the say guy over and over and It doesn't really change until later in the story. I hope we see tougher fights in the future.
The End Game.
I'm not really one for endgame. This time though, I am having a blast. I love the weekly heroics, and the rewards are fun for that. I really love the Alliance system, but I wont really talk about that for sake of no spoilers. They added a new Flashpoint called "The Star Fortress". The story around it was fun, and it all ties into the Alliance system. We also do a lot of companion stuff here in late game, and that is what I enjoy. Meeting old friends and new is a fantastic experience.
And that will do it! I'm off to play again, so see you soon! What did you think of KOTFE?
So do you have any thoughts? Email us at feedback@geek-podcast.com, tweet us @OfficialGeEKPod or leave a comment below telling us your thoughts. All our other contact details can be found here.
Thanks for reading, I've been Alex, and I'll catch you next time!